Is the roof of your home looks like it could collapse any moment? Are you considering remodeling your home, and you need the right people to handle your roof replacement needs? Then look no further; Build Brothers Inc. has all the services for all for your roofing needs. If you are looking for a reliable roofing company in Encinitas, then Build Brothers Inc. will be the right answer for your search. Upgrade your roof to be more durable and resistant to whatever Mother Nature will throw at it. There are tons of services and commercial roofing solutions available for you.
Does your roof look like it's beaten up? Does it show signs of wear and tear throughout the years? Then it is time to call for a professional roofer in Encinitas, appointed from Build Brothers Inc. You don't have to rely on amateur roofers to do a sloppy job on repairing and replacing your roof. Don't settle for loose shingles and poor fixtures for supporting your roof. We will be handling everything, and with our top of the line builders, you can ensure that your expectations will be met.
If you're planning on having your roof replaced because the roof is heavily damaged due to a massive storm or accident, we offer roof replacement in Encinitas. You can customize the materials to be used to replace your roof, and we will be providing recommendations and suggestions in making improvements to your roof. Maybe you want to pick out a new color or change out the material used for your shingles. Whatever it may be, we can deliver the right service for you.
A roof replacement job can also be tedious and expensive for some, but here at Build Brothers Inc., we work on the budget you have right now. The longevity of your roof will depend on the materials that you will choose for your roof. We also have services for commercial roofing replacement in Encinitas, so businesses will be able to change their shops' look. There are tons of materials that you can choose from such as sheet metal, asphalt, slate, wood, and many more. Each material has its advantages and disadvantages, so choosing the right material is crucial for getting the optimal outcome for your roof customization.
Don't worry about keeping the pristine condition of your roof. Build Brothers Inc. offers monthly roof maintenance in Encinitas to keep your roof in good shape and leakage-free. We will also conduct various evaluations of your roof's current condition and assess the surrounding environment for risks and hazards to avoid accidents from happening in the future.
Maybe you're planning to increase the value of your home? You can do so by installing solar panels onto your roof and make your home more energy-efficient. It is always essential to future-proof your home. In case of an energy crisis, you will have an alternative energy source. Build Brothers Inc. is credible for residential solar panels installation in Encinitas.
Build Brothers Inc. now extends its reputable services for the residents at Encinitas. Our services range from commercial roofing services: roof repair, roof replacement, material replacement, roof maintenance, and solar panel installation; up to residential roofing services such as roof repair, roof replacement, roof customization, and installation of solar panels. It's essential to keep yourself and your family safe for any possible cause of accidents involving your roof collapsing. Precautionary measures are our top priority.
Request a Free Evaluation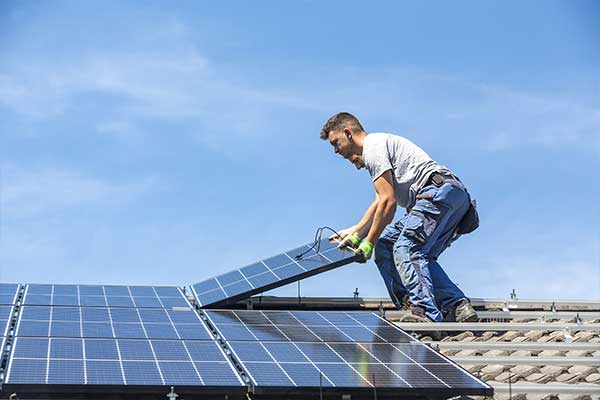 Solar and Roofing
Roofing and solar is a perfect marriage. We are one of the only companies that can install your roof, put solar on top of it and still maintain that lifetime warranty of your roof; all while paying no money out of pocket!. Build Bros redefines your relationship with energy. Save money. Minimize your carbon footprint. Take control of your power costs today!
Solar Installation
Are you looking for a way to cut down on your energy consumption? There are many options on the market, but solar panels are one of the most eco-friendly options. Solar panel installation is a simple process that can save you loads of money.
Residential & Commercial Roofing 
Build Brothers is also a licensed roofing contractor and has been providing roofing services to San Diego for years. From our local owners, installers, and outreach and enrollment specialists, we are one of the most established and trusted names for roofing services in San Diego County.
"These guys did a fantastic job on our solar project also looping in HVAC and a new electric panel for our house. From initial meeting with Tyler and Ian they did exactly what they said they would do. Since the system was installed a couple months ago the offset has been greater than we had planned and that was unexpected given the winter months. We were shooting for 130% offset and we are above that in the middle of winter.

Great app on my phone to track the daily production. The guys that did the install of the panels and HVAC were great too very fast and professional. Great product and great team highly recommend.

Aaron H

La Jolla, CA