Giving your roof a sleek and stylish look is what contemporary homeowners aim to achieve, but it cannot be easy with a tight budget. Choosing a roofing company in Poway can be a tedious and stressful task, considering that there are tons of companies to choose from. May it be a big or small company, how can you tell if the roofing company you chose is the right one for you? Build Brothers Inc. is a versatile roofing company that is a leader in residential and commercial roofing solutions. We have tons of services that will take care of your roofing needs.
Customizing your roof will add up a lot of aesthetic value for your home. But picking out the materials for your shingles can be very costly, especially if you have a roofer to install them for you. To save cash in your pocket, Build Brothers Inc. will provide you with recommendations and suggestions that are appropriate for the current condition of your home. Remember, the heavier the material, the better the quality. You can avail of our residential roofing services in Poway and discuss your ideas with us so we could come up with the right layout and materials for your roof.
Maybe you want to keep the current material and layout of your roof, but worry about whether it is sturdy enough to withstand a strong storm. Here at Build Brothers Inc., we specialize in roof repair in Poway, wherein we ensure that your roof will be as good as new. Get rid of holes, dents, and cracks to keep the water out and avoid getting flooded in case of a massive storm hits your area. Fortify your roof by having a layered covering and help it become more resistant to inclement weather.
Suppose you want to keep your roof in great condition and avoid it from developing wear and tear. In that case, it is recommended to avail the monthly roof maintenance in Poway from Build Brothers Inc. We will assess and evaluate the current condition of your roof and check whether there are risks and safety hazards involved with it. It is always crucial to be prepared for any unexpected circumstances and prepare your home for what Mother Nature can throw at it.
In case of an emergency power outage or a total blackout, you can opt for an alternative energy source. This can be achieved by installing solar panels onto your roof. Build Brothers Inc. is well-known for residential solar panel installation in Poway. You can ensure that your solar panels will be affixed on the right spot to catch enough sunlight to power up your generators. Going for a roof with solar panels will greatly boost your home's value if you plan to sell it in the future. It is an investment that you can never go wrong with.
Build Brothers Inc. now offers its affordable services to the residents and commercials shops at Poway. Residents will now avail of premium roofing services from commercial: roof repair, roof replacement, material replacement, roof maintenance, and solar panel installation; up to residential such as roof repair, roof replacement, roof customization, and installation of solar panels. Never settle for a flimsy and beaten down roof, have your roof customized the way you wanted it to look. Live in peace without having to worry about your roofing concerns, because Build Brothers Inc. will be the one to get the job done right.
Request a Free Evaluation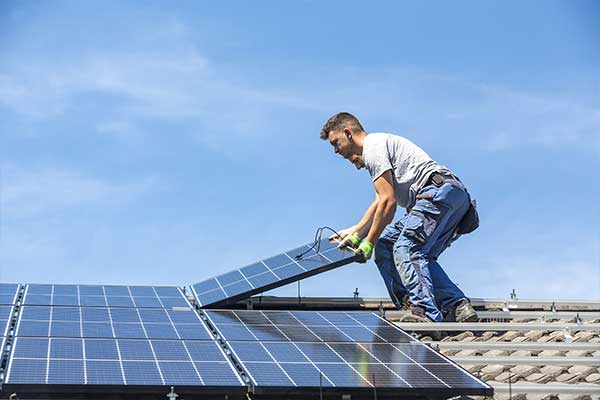 Solar and Roofing
Roofing and solar is a perfect marriage. We are one of the only companies that can install your roof, put solar on top of it and still maintain that lifetime warranty of your roof; all while paying no money out of pocket!. Build Bros redefines your relationship with energy. Save money. Minimize your carbon footprint. Take control of your power costs today!
Solar Installation
Are you looking for a way to cut down on your energy consumption? There are many options on the market, but solar panels are one of the most eco-friendly options. Solar panel installation is a simple process that can save you loads of money.
Residential & Commercial Roofing 
Build Brothers is also a licensed roofing contractor and has been providing roofing services to San Diego for years. From our local owners, installers, and outreach and enrollment specialists, we are one of the most established and trusted names for roofing services in San Diego County.
"These guys did a fantastic job on our solar project also looping in HVAC and a new electric panel for our house. From initial meeting with Tyler and Ian they did exactly what they said they would do. Since the system was installed a couple months ago the offset has been greater than we had planned and that was unexpected given the winter months. We were shooting for 130% offset and we are above that in the middle of winter.

Great app on my phone to track the daily production. The guys that did the install of the panels and HVAC were great too very fast and professional. Great product and great team highly recommend.

Aaron H

La Jolla, CA