Home remodeling is a very expensive project, especially if you have no approach to doing it. Most remodeling projects also include roof renovations and replacement in the overall expenses. So it's no surprise that people tend to go over budget due to some additional expenses brought by remodeling circumstances. Planning and saving are two things to keep some money in your wallet. Still, the best way is to hire a company that provides the same quality of services with affordable and reasonable prices; Build Brothers Inc. is the right roofing company in Carmel Valley that will take care of all your roofing needs.
You may think that the best approach is to hire a simple company that will cost less than our services. This is the most common ideology that people think that they can "save" money by just handling the project over to amateurs in the field. Let's think about it, would you rather have a professional do the task, so it goes according to plan and will be finished a lot faster, or would you go on hiring an amateur and end up with a weak structured roof and loose shingles. So just hire some professional roofers in Carmel Valley to do the work for you, you know what the costs are, you have a schedule of when it will be finished, and you just saved up some of your time and money. Build Brothers Inc. will only provide you with top of the line professionals, so you can get the outcome that you want for your roofing needs.
People also thought about just reusing the materials from the roof they have right now. It does sound like a good idea to reuse old materials, but wait, what's the point of remodeling or replacing your roof if you're just going to use the old stuff again. The point of customizing your roof is to give your house a whole new look, not that you just went all of that trouble to make it end up looking like it was before. Build Brothers Inc. offers services such as residential roofing in Carmel Valley, to have you set up for roof customization options and experiment with tons of layouts and colors to choose from.
Do you want everything to be a total success? Then let us handle everything for you!
Yes, the project will go according to your preference, but let the assigned roofing contractor know the outcome so we can instruct our professional roofers on what to do. But from your end, you have to be specific and concise with every detail so you and your design will be both portrayed by the contractor and his/her team. Our roofer services in Carmel Valley go along with protocols from a system that we had built to ensure that everything will go smoothly.
Build Brothers Inc. wants you to get the most out of your budget and get the best quality from the services that we provide, such as commercial: roof repair, roof replacement, material replacement, roof maintenance, and solar panel installation; up to residential such as roof repair, roof replacement, roof customization and installation of solar panels in Carmel Valley. Fortify and reinforce your home by having a roof that can withstand the harshest of weather conditions.
Request a Free Evaluation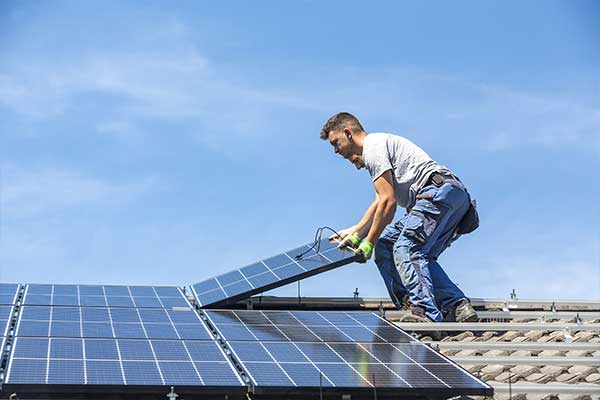 Solar and Roofing
Roofing and solar is a perfect marriage. We are one of the only companies that can install your roof, put solar on top of it and still maintain that lifetime warranty of your roof; all while paying no money out of pocket!. Build Bros redefines your relationship with energy. Save money. Minimize your carbon footprint. Take control of your power costs today!
Solar Installation
Are you looking for a way to cut down on your energy consumption? There are many options on the market, but solar panels are one of the most eco-friendly options. Solar panel installation is a simple process that can save you loads of money.
Residential & Commercial Roofing 
Build Brothers is also a licensed roofing contractor and has been providing roofing services to San Diego for years. From our local owners, installers, and outreach and enrollment specialists, we are one of the most established and trusted names for roofing services in San Diego County.
"These guys did a fantastic job on our solar project also looping in HVAC and a new electric panel for our house. From initial meeting with Tyler and Ian they did exactly what they said they would do. Since the system was installed a couple months ago the offset has been greater than we had planned and that was unexpected given the winter months. We were shooting for 130% offset and we are above that in the middle of winter.

Great app on my phone to track the daily production. The guys that did the install of the panels and HVAC were great too very fast and professional. Great product and great team highly recommend.

Aaron H

La Jolla, CA